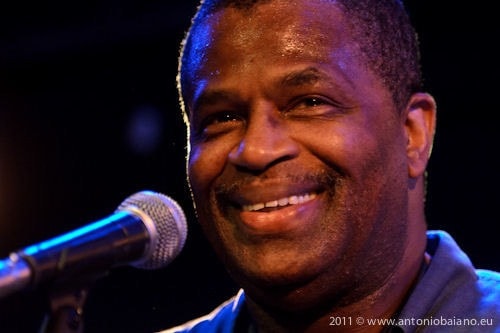 Ray Blue                  
"Ray Blue has a majestic presence…when playing, his sense of purpose is obvious. It's one thing to be a good composer it's another to be a great performer. Ray Blue's got the whole package." (Jean Szlamowicz, Jazz Hot, Down Beat)
Ray Blue's music can be described as a fusion of straight ahead jazz and African groove. Ray is a New York bred saxophonist, composer, arranger and educator who performs and conducts workshops and master classes internationally.
Over the years this award winning New York based saxophonist has shared the stage and studio as leader and sideman with John Gilmore, Dr. Art Davis, Benny Powell, Kirk Lightsey, Bernard Purdie, Patience Higgins, Reuben Wilson, Danny Mixon, Wycliff Gordon, Bruce Cox, George Grey, Doug Sides, Wayne Dockery, Clifford Adams, Steve Turre, Belden Bullock, Ted Curson, Joe Lee Wilson, John Betsch, Calvin Hill, Michael Cochrane, The Sun Ra Arkestra, Cotton Club All Stars, Harlem Blues and Jazz Band and many others. He was also a cast member of the "Ray Charles Show" which toured in Germany, Switzerland, Austria and Italy 2008 to 2010.
His festival performances as leader and featured artist include: Hartford Jazz Festival; Zanzibar International Film Festival; North Sea Jazz Festival-Cape Town, South Africa; Macufe Festival-Bloemfontaine, South Africa; European Union Annex Festival-Dublin, Ireland; Audi Jazz Festival-Brussels, Belgium; Macao Jazz Festival, China; The New York State Black Arts Festival-Albany, New York; Midi Music Festival-Beijing, China; Pori Jazz Festival, Finland; Foix Jazz Festival, France and others.
Ray released his first CD as a leader, Always with a Purpose, in 2001. Then cameRay Blue Live at Liars Theater in 2004 and "Ray Blue Live at Liars Theater 2 in 2005. In 2006 Ray released 'Transvision' on the Neu Klang label and Berries and Blues in 2010. 
Ray Blue was inducted: Iowa Juneteenth – Jazz Legacy Award, 2015; New York Blues Hall of Fame, 2013; Tri M Music Honor Society, 2012, Distinguished Career Award, Wm. Penn University, 2010; Annual Ray Blue Jazz Award, Wm. Penn University, Initiated 2006.
Ray conducts workshops/master classes and consults at colleges, universities, schools and communities institutions around the world. He is the founder of Cross-Cultural Connection, Inc. a 501 (c) 3 organization that promotes jazz culture, education and performance. Ray endorses GB Saxophones and Vandoren mouthpieces and reeds.