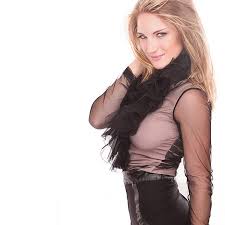 Jessica Mellott is a pop/rock singer/songwriter originally from Frederick, Maryland. Now living in Los Angeles, California, she is a graduate of Berklee College of Music, with focus on Vocal Performance and Songwriting. She has worked with such notable acts as the Boston Pops, the Isley Brothers, J. Geils, The Spinners, 3 Dog Night, and Frankie Beverly & Maze. Jessica has also had the pleasure of performing at the Las Vegas Hilton, Warner Theater, the Strathmore, and the Malibu Music Awards, among many others.
She has been the main page featured artist on numerous websites, including the very popular Zorpia and Windows Media Player. Her ringtones were featured on Myxer.com, and it was one of their most successful promotions to date, with over 6,000 downloads in 24 hours. Jessica was also a featured artist in the book, "Hacking MySpace: How to Make MySpace Your Space" c. 2006 Wiley Publishing, due to her popularity on the social media site. She has won numerous awards, including the Los Angeles Music Award for Pop Female Singer/Songwriter of the Year and the Washington Post Talent award.
In November 2012, Jessica released a 3 song EP that she co-wrote with songwriter Chas Castell, titled "Christmas in Love." Jessica worked with a roster of talent, including producers Andre de Santanna (Jason Mraz, Sheryl Crow) and musicians Jaco Caraco (Miley Cyrus, Colbie Caillat), Tamir Barzilay (Cash Money, Bill Withers), Claire Courchene (Josh Groban, Macy Gray), and Tom Lea (Annie Lennox, Donna Summer).
You can purchase the album now on:
iTunes  https://itunes.apple.com/us/album/christmas-in-love-single/id579511961
Amazon  http://www.amazon.com/Christmas-in-Love/dp/B00AB7RSF2/ref=sr_shvl_album_1?ie=UTF8&qid=1354326000&sr=301-1