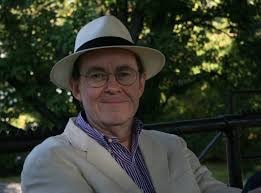 Raised in Charlottesville, Virginia, and Wilmington, Delaware, Cannon has played from Maine to Florida with a stint in Nashville. He's also raised a family and pursued his career writing about music for magazines like Entertainment Weekly and Performing Songwriter. Now the New Jersey-based Cannon steps away from the computer keyboard to release his debut album, Unbreakable Heart. The 14 songs here add up to an incisive, witty collection about love, dreams, expectations, the working life—and the Three Stooges—that brings together eclectic Americana styles and the wry pop wit of Randy Newman.
Using his experience from what he estimates at "a thousand bands," Cannon displays his skills on a range of instruments from guitar, piano, mandolin, and dobro. Assisting him are the cream of New York's session scene, including bassist Michael Visceglia (Suzanne Vega, Rachael Sage, Cliff Eberhardt), drummer Frank Vilardi (Suzanne Vega, Rosanne Cash, Lucy Kaplansky, Shawn Colvin), violinist Gary Oleyar (Loggins & Messina, Vassar Clements), cellist Stephanie Winters (Rachael Sage, Dar Williams, Catie Curtis, David Wilcox), plus New Jersey talents like accordionist Andy Sandel, bassist Bob Mellman and vocalists Carrie Cantor and Alisa Harmon.
"Like most kids back then, I got turned on by the Beatles," he says. "But while everybody else was screaming and talking about their clothes and hair, I was listening to the songs. That to me is what made them cool.
"From there I tried to soak up everything I could. The radio, of course, because that era gave you everything from Motown to Merseybeat to Stax/Volt to Johnny Cash, even Napoleon XIV, all on the same station! I discovered rockabilly and country music after seeing Carl Perkins' name on their album covers, plus Chuck Berry, Buddy Holly, and the rest. They all had killer tunes, and I decided that's what I wanted to do. Later on, people like Elvis Costello, Steve Earle, John Hiatt, Rodney Crowell, Jackson Browne, Foster & Lloyd, Richard Thompson and Nick Lowe were all on continuous play on my stereo."
Meanwhile, his career in journalism brought him in contact with the brighter lights of Nashville in the '90s and '00s. "Writing about these people and meeting them all was a real eye-opener," he says. "I noticed that they all stressed the characters in the songs. The story had to be strong. That's important.
"But also, none of them were ever satisfied with what they had just written. Heck, I got to spend an entire evening with Harlan Howard, who's written, oh, about a hundred million country hits. And even he spent most of the time talking about what he was planning next."
On Unbreakable Heart, Cannon shows he took those lessons to heart. From the breakneck rockabilly-flavored opener "Oh Cecelia," Cannon launches into a head-turning set of styles from the swampy working man's lament "Hardly Working at All" to the driving rocker "Weapons of Mass Seduction," then dialing it down for the jazzy blues of "Since You've Gone." There's the witty country stomp of "Relationships" and the lounge lizard's ballad "Table for One," plus the the Dylan-influenced "Your Great Escape," which details the sobering events of a computer date gone awry.
"I've never liked records that sound like 14 versions of the same tune," he says. "And I don't think fans do, either. They want to be surprised, and I think sometimes performers forget that the folks on the other side of the microphone paid their money to be stimulated, whether it's to have their thoughts provoked, to get introduced to some new sounds or to just cut loose and dance. That's what I'm after, to give them an album—or an evening out—that they can't get anywhere else."
","nextArrow":"","rtl":false}' dir="ltr">
I got to spend an entire evening with Harlan Howard , who's written, oh, about a hundred million country hits!