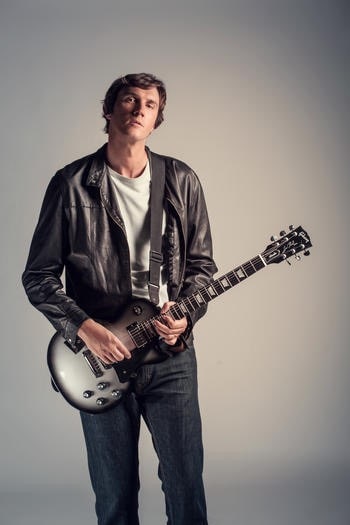 Hooked by the Brit pop sound as a teenager in the early 1990s, English-born Chas Castell is a 7-foot tall, LA-based singer/songwriter who fuses the guitar driven styles of artists like Radiohead and Oasis, the lush acoustics and orchestrations of Damien Rice and Ed Sheeran, with the classical songwriting of Paul McCartney, Billy Joel, and Burt Bacharach.

With an MFA in Film Production from Boston University, Chas founded and sold his own digital media company, earned a nomination for the Student Academy Awards, started a blog for the BBC, and designed the first mobile network for Warner Brothers, before bringing his intellectual and creative talents back again to his musical aspirations.

In 2012, Chas and his brother Dave formed The Castell Brothers and released their debut album, mixed by Kev Poree (Radiohead). In the same year, Chas and Berklee Grad, Jessica Mellott, formed Mellott and released their debut EP, produced by Andre de Santanna (Jason Mraz), which earned them a featured artist spot on Myspce and Reverbnation. With both bands, and solo utilising loop-pedals and triggers, Chas has performed extensively throughout LA and the UK. His songs have been placed on Sony Playstation and Tiscali.

In April 2015, Chas released his first solo recording (on the same day as the due date for his second child), mixed by Grammy Nominated Nels Jensen (Sigur Ros). In July he released a second EP with Mellott, engineered by 'The Young And The Restless' composer, RC Cates.
As a father of two, Chas is heavily involved in music education for children, acting as business liaison for Education Though Music LA and running his own record label, the 'I Can Change The World Project' that teaches songwriting to teenagers, focused on creating music to bring about social change. He also designed and teaches his own course 'Project Management for Musicians' at The Songwriting School of Los Angeles', utilising his 10+ years of digital management experience.