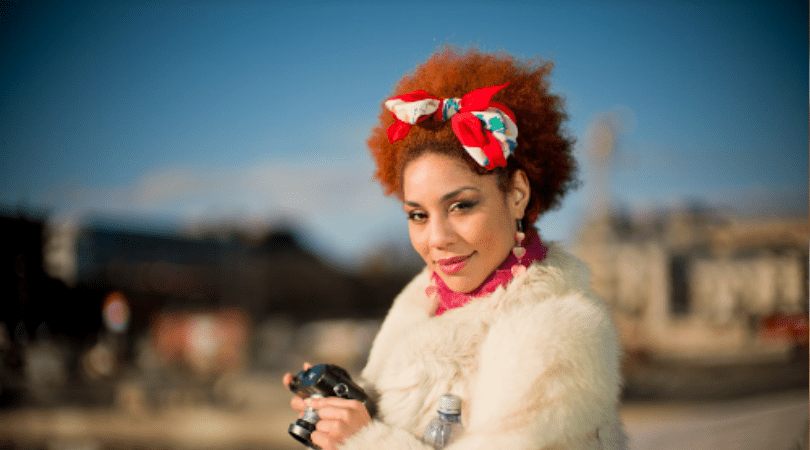 Introduction
dHarmic Evolution is back with another incredible interview. This time, we chatted with the awe-inspiring Joy Villa. Joy Villa is an American singer-songwriter, actress, and YouTuber. She is known for her bold and sometimes, outrageous outfits which she has worn to the Grammy awards. Joy is a staunch supporter of Trump; having been very active in American politics. She's talented, she's vocal about her beliefs, she identifies as a Scientologist and has a passion for spreading joy, love and bringing people together in harmony. In this dHarmic Evolution interview with Joy Villa, we are going to be considering the various shades of the American singer-songwriter, as a speaker, a political commentator, and a humanitarian.
Joy Villa On Grammy's
On her fashion taste and her exquisite Grammys dress, which was specially made for the Red Carpet, Joy says the dress, which she calls "the Trump dress" was designed by her friend. According to Joy Villa, her choice of the dress was a means of publicly showing support for the president and also, to add a touch of playfulness and love to the tense political atmosphere.
And her bold move ended up leaving guests at the Grammys awe-struck. Joy Villa says it was empowering for her to openly embrace her beliefs and courageously and voice them in a creative manner. The light-hearted artist and singer believe in love, unity, and togetherness, and she goes out of her way to ensure that her atmosphere is infused with the same. She says that she always comes from a point of love, unity, and togetherness and never has intentions of purposefully hurting anyone's sentiments.
According to Joy Villa, she had no idea that her career would blow up as a result of her grand appearance at the Grammys. Joy's unusual dressing elicited curiosity amongst the viewers that ultimately propelled sales as well as her fame. Joy states that she was not thinking in the long term when she chose her dress. Her motive was pure to show her support for the president. She does say, however, that she knew that the dress might spark a certain backlash, especially in Hollywood. However, she braved it and is still reaping the fruits today! Watching herself go viral, Joy says, was an incredible moment for her; one she will never forget. Joy goes a step further to describe herself as not just a political commentator but a political activist.
EP Home Sweet Home
Her newest E.P 'Home Sweet Home' is currently topping the charts. Truly one of the top artists out there, she holds you spell-bound with her melodious voice and well-crafted tunes. 'Home Sweet Home' is a song in which she eulogizes America, while also referring to the joys of freedom. When asked what exactly her inspiration for the song was, Joy says it was 100% America for her and the song is an expression of the love she has for her country.
She speaks about her numerous travels and encourages everyone to take a vacation from time to time. For her, it's a great way to refuel while gaining exposure. When asked how this new success has affected her personal life; Joy launches into a beautiful tale of numerous positive things that have happened to her as a result of her new position in the spotlight. In her own words, "my life has completely changed in some ways and some ways; it has not changed at all." For Joy Villa, a significant change is that people now recognize her, which is a boost to her career in a lot of ways.
Joy Villa's Work Routine
Joy Villa works out twice a day for 3-5 minutes. She builds her life around the things that help her life. A vegetarian for 30 years, Joy is committed to a healthy lifestyle. Joy Villa describes herself as a homebody and one who protects her time. She especially enjoys spending quality time with her family. Joy says she hopes to inspire people with her songs and activism. Having been through sexual abuse and other hardships in life, Joy Villa describes herself as a victor and not a victim; an attitude we find rather impressive! When asked where she draws her strength from, Joy attributes her strength to her parents.
In her words, "My parents always told me how beautiful I was while growing up. They told me I am beautiful and strong; that I could achieve anything I want to. These words have been my driving force over the years!" Again, another source of strength for Joy is her Christian Faith. Joy Villa takes her spirituality quite seriously and practices Christianity actively to strengthen herself. Moreover, Joy is committed to constant heart checks. She speaks with sadness about the stage of her life when she didn't give a hoot about how other people felt about her actions, whether they were hurt or not.
According to Joy, she has made mistakes, and she is not ashamed to admit her mistakes. She is continuously working on becoming a better version of herself. Joy Villa is a Scientologist, and she mentions her religious beliefs as yet another source of strength. Joy says she chose her religion, Scientology as a means to better her life and career. According to Joy, taking time to refresh is an indispensable part of her life. She refuels herself by taking time to relax and refresh.
Song: Make America Great Again
"Joy is doing more than her share to make America great again". Joy Villa sang this song to clarify her position; why she is supporting Donald Trump and generally, her political philosophy. She says she chose the phrase 'making America great again' because it is a relatable phrase among the majority of the American populace – one that rings a bell. Also, it is a phrase popularly used by Trump himself too.
Joy Villa & Her Journey As A Philanthropist
"Philanthropy is one of my greatest pleasures."
According to Joy Villa, there are very few things that give her as much pleasure as philanthropy. The concept of giving back to society is one that constantly inspires and motivates Joy. She derives fulfillment from using her position and influence to help the less fortunate. She goes out of her way to reach out to needy people outside her immediate environment. Her philanthropy work isn't restricted to America alone. In fact, she continues this work across various countries that she travels to. Most recently, she mentions her visit to Iran where she had the opportunity to offer help to women and children.
As a survivor herself, she empathizes with women and children and young girls who are sexually abused and a lot of her philanthropic work focuses on providing help and assistance to these women and children. Joy Villa expresses optimism that America will only get better and better in the years to come and only through lifting others can this goal be achieved sooner.
Songwriting Process For Devil In the City
Joy says this song was basically written to call out hypocrites and people pretending to be something that they are not. She believes in being true to oneself, committing to a course, and following through with it to the end. For Joy Villa, pretense and hypocrisy of any sort are a deal-breaker; they work against the unity and progress of any nation. She believes in being kind to people regardless of their backgrounds, lifestyle, race, or ethnicity.
Joy Villa goes out of her way to relate to the struggles of the less fortunate members of society. She believes in affirming people by the words we speak to them. She puts it brilliantly when she says, "even if you are doing it for selfish reasons, be nice to people".
Visiting The White House
When asked about the most impressive thing she discovered during her visit to the White House, she mentions two striking points:
The manner in which everyone and everything worked in perfect synergy and meeting Ivanka Trump. She describes Ivanka as very humble and sweet-spirited and at the same time. She refers to her as an outstanding figure in the White House. Joy says she felt elated when Ivanka recognized her as she walked down a hallway at the White House and even more pleased when she learned that Ivanka had been a fan of hers for quite some time.
Finally, she talks about her song Vagabonds, a song about freedom and being unlimited in a world full of limitations. Joy describes herself as 'unlimited'.
Wrapping Up
"Be bold; be brave enough to be your true self" Queen Latifah
Joy Villa's story is a classic tale of the benefits of standing bold and staying true to oneself. Who would have thought that a simple act of boldness could take Joy Villa to the spotlight and her music to the very top of the charts! Joy Villa's story once again proves Tony Gaskins' words true. In his words, "The doors will be opened to those who are bold enough to knock."
At dHarmic Evolution, we're constantly being inspired and learning new things from the incredible artists that we interview. Joy Villa is no different in that regard. Her passion for spreading joy, bringing people together, being bold and courageous, lifting others up, following your heart, and standing up for what you believe in has left us speechless and moved. And as she says herself, "boldness never goes out of fashion. If you persist in doing your best, you can go from point zero to point 100 just in one day!" We couldn't agree more, Joy.
Get In Touch
Our interview with Joy Villa was a moving reminder of how important it is, especially as an artist, to be true to yourself and to not lose your voice. If you'd like to hear more moving stories from artists, content creators, musicians and creatives from all walks of life, check out our podcast here.
If you're an artist yourself and would like to share your thoughts or simply give us some feedback, be sure to leave a comment below. We love hearing from you!
Frequently Asked Questions
Who is Joy Villa?
Joy Villa is an American singer and artist whose E.P. "I make the static" skyrocketed to the no. 1 spot on both iTunes and Amazon after her 2017 Grammys' appearance. She came out topping the charts.
What kind of music does Joy Villa create?
Joy Villa typically plays pop, pop-rock, soul and pop punk. Her genre is best classified as Dance/Electronic music.
Where to listen to Joy Villa's music?
Check out more of Joy Villa's music on YouTube, Spotify and AppleMusic.
Where to listen to a podcast with Joy Villa?
dHarmic Evolution's interview with Joy Villa is now live. You can listen to the full podcast here.
Check Out New Music At The dHarmic Evolution Rising Stars Spotify Playlist
dHarmic Evolution have curated a Spotify Playlist for your listening pleasure. Included in this playlist are select Indie artists from the dHarmic Evolution Podcast where the future Indie Stars of Tomorrow appear today! Check it out here.