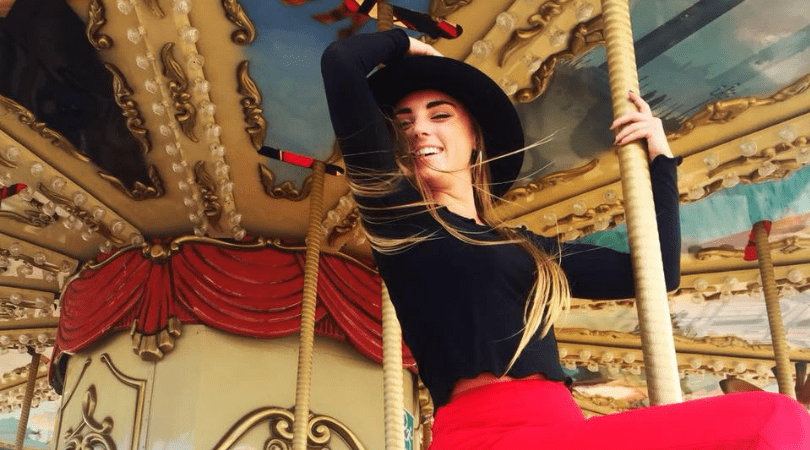 In today's interview on dHarmic Evolution, we chat with the super talented singer-songwriter and pianist Ivy Alex. Her unique taste in music and creative abilities as an artist make her stand out of the crowd. All of her audience and listeners know that Ivy likes to experiment with genres; she's tried jazz, pop, neo-soul, and even classical, and aced them all! But what is Ivy Alex like behind the mic? What's her personal life like, and what's the motivational force that drives her creative mind? That's what we're all here for, aren't we? Well, today, we shall all find out!
Berklee & Music
While many do not know this, Ivy Alex is a Berklee Alumni and studied everything about music, lyrics, and rhythms. When asked whether she thought her education and music career had a connection, Alex said she had learned a lot of theory from the infamous college in Boston. She said Berklee taught her "a little too much too quickly," and it took her about two years to find and identify her unique sound after completing education.
The singer-songwriter said she learned about all kinds of music, including jazz, rock, classical, funk, and when she graduated, she had a lot of theory in her mind. Ivy said all this theoretical knowledge helped her start writing her own lyrics and creating music. She listens to a lot of music, picks what she likes, and incorporates it into her own style.
Alex also told dHarmic Evolution that Berklee had a lot of influence on her taste in jazz music. The artist said she's been writing lyrics since she was ten. Ever since the age of eight, she started learning how to syncopate jazz music and that she loves doing it in every jazz song she creates! Ivy loves blending rhythms and playing with sounds, which clearly shows in all of her musical creations. According to Alex, when she was in Berklee, she started writing many 5/4 or 6/8 rhythms. Plus, she began to explore many feelings as she grew there and incorporated a lot of her experiences into her music.
Ivy Alex's Musical Progress
Ivy Alex said she wrote almost every song in flats for a long time, particularly G flat and B flat keys, but then she started moving more towards and composing in the key of E. The artist explained in the interview that she'd recently learned about the association between colors and music. While further explaining her concept, she said that individuals with hearing loss used colors to match frequencies and created an association. For example, a particular frequency would translate as the color yellow, and vice versa. Ivy said she thought about that idea a lot and used it to explore her ideas in music. She moved across different keys, and the fascinating concept of colors and keys inspired her.
Ivy & Genres
Alex said in her interview that she doesn't like to stay bound in a particular genre. She told dHarmic Evolution that she's been working on an EP called "Fool For Love" and that she is already working on a mixtape with beats like hip-hop and much more. Apparently, the Berklee Alumni thinks switching between different music genres (weaving in and out) helps you grow. She says she would hate restriction to particular criteria of beats and sounds for "the rest of her life."
"Lust"-The Idea Behind The Song
When asked about the background and inspiration for her song "Lust," Ivy Alex said she was in a very vulnerable place while writing and recording that song. The artist said in the interview that she hopes and thinks people worldwide will relate to her music especially because they expect more relatability from the female songwriters. According to the singer and writer of the song, this musical masterpiece's start highlights the pain and trauma while the ending shines a ray of hope.
"Dark Side"- Ivy Alex's Idea Behind The Song
In the interview, we asked the singer about the story or inspiration behind her famous song, The Dark Side. As an answer to this, Ivy Alex said that she starts to understand and portray her real feelings when she starts playing on the piano, and that's when she came up with this beautiful song. The artist said she was going through a complication in a relationship, and she wrote these lyrics right before she broke up with her significant other. "It helped me move on," said the music artist, "..it was the truth about our relationship.." Ivy Alex noted that the song helped her realize her true feelings and move on. She also mentioned that the song paid homage to Pink Floyd's Dark Side Of The Moon.
"Waterfall"- The Idea Behind The Song
When Ivy Alex wrote the song "Waterfalls," the singer said she was slowly falling for a guy who gradually "ghosted" her. Much like how the song's lyrics go, she expected him to come back. The cover photo for that particular song was also from the same time frame. Since then, said the artist, she had her questions and concerns regarding the same man and was going through a complicated war in her head. "Intuitively, I knew.."
Surprisingly, said the musical magician, piano playing in the song didn't take many takes to get the instrumental portion right! The piano was a Yamaha, and she said she always has a lot of fun playing classic, original Yamaha pianos.
Ivy Alex's Love For Pianos and Traveling
Since Ivy Alex expressed her love for classical Yamaha pianos, we asked her more about her piano learning experiences and how it feels when traveling away from her instrument. The singer said she started creating music on an original black Yamaha piano, so she has unique affectionate feelings with the particular tool. Therefore, it's obviously kind of scary for her to think about finding a piano, a Yamaha, particularly when she is traveling.
Ivy said she thinks things have changed a lot around the globe in terms of music. The artist recalls that there would be a piano readily available and accessible in almost every bar, which is not the case anymore. They were more like "a piece of furniture." The artist strongly believes that professional pianists should charge for performing since the skill and the instrument are not as mainstream anymore.
The Ivy Alex Thought Process
When asked about the thought processes she goes through when writing or completing a song, Ivy Alex said her plugins, loops, and music instruments excite her. The artist proudly noted that she doesn't write a song for money; she does it to create freedom. Thus, when she completes a song, Alex feels like it's a masterpiece, and that's what keeps her driven. Since the piano is her expertise, she feels the most comfortable with the instrument and has the most fun. Ivy recalled her first song on a guitar as a music artist and compared it to her creative piano experience. She said she couldn't believe how far you can go with a musical instrument you are comfortable with.
Hobbies & Interests
Ivy Alex said she likes to make music when she's not making music. In the interview, the artist said she wants to go to a nearby kava-bar. Since she used to work there as a young girl, Ivy said she is very familiar with that place and likes to go there for her me-time and inspiration. "Kava mellows you out… it's good for me instead of coffee," says the creative artist. In the interview, she said it's a nice break to leave the house, have some of that calming beverage, listen to people's stories, and take some time off work.
The emerging music artist Ivy Alex also likes to write in her journal (she writes five pages every day!), walks with her two dogs, and visits the natural springs around Florida. Talk about being adventurous!
Wardrobe & Music
Since Ivy Alex has a unique style and wardrobe in most of her pictures, we questioned the artist in the interview about her fashion thoughts. As an answer to this, she said different wardrobe pieces give you a different persona, especially while you're recording or creating musical content. For example, putting on the right pair of glasses makes you feel more intellectual, while a hat has a different effect on your personality. She says that each clothing or accessory you wear impacts how you look and feel about yourself. Since she already has a very suspicious and intellectual appearance, glasses accentuate her looks even more!
Wrapping Up
Needless to say, Ivy Alex is an emerging, unique singer-songwriter. We all knew she has a charming voice and an intellectual personality. But little did we know that she's so fun to talk to. And she has such a young, broad, and creative mind! With Ivy's upcoming EP "Fool For Love," in future collaborations with her music producer, the energetic artist believes she is going places. And so do we! Her songs are unique, dynamic, and they have Ivy's signature angelic vibe to them that her audiences love. She's done a fantastic job with jazz, classical, and pop music, and her fans love every song she creates. With more than 100 musical creations already on her profile, the singer-songwriter Ivy Alex is all set to debut with her EP. And all of us dHarmic Evolution can't wait to hear it!
We'd Love To Hear From You!
To hear more inspiring stories like Ivy Alex's, check out our podcast. At dHarmic Evolution, we interview artists, musicians, content creators, and people on different stages of their creative journeys. We chat with them about their challenges, their dreams, and their hopes for the future. These people inspire us, move us, and show us exactly why we love the world of arts so much. If you're an artist yourself and would like to share your thoughts or leave feedback, be sure to leave a comment below and say hi.
FAQ's
1. Who is Ivy Alex?
Ivy Alex is a multi-talented pianist, singer-songwriter and a Berklee Alumni. She's known for her angelic melodies and dynamic emotional storytelling.
2. What kind of music does Ivy Alex create?
Ivy isn't restricted to any one genre alone and experiments with mixed styles of jazz, classical, neo-soul, and pop.
3. Where to listen to Ivy Alex music?
Head on over to her Spotify Page, SoundCloud and Youtube Channel to keep updated with her new music. Be sure to keep an eye out for her new EP "Fool for Love".
4. Where to listen to a podcast with Ivy Alex?
We chatted with the wonderful Ivy Alex at dHarmic Evolution. Listen to the full interview on our podcast.