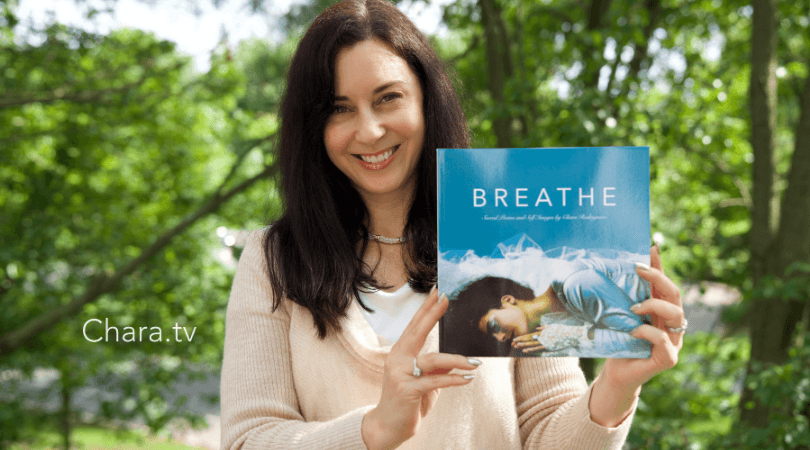 Chara is a Wife and Mother, the Creator of Sol Path Yoga and The Optimal and Dream Life Programs, inspirational Author, Actress and Sol Whisperer and, "Self As Art-ist" for awakening Avatars.
Since 1995, Chara has been a student a teacher of Yoga, Meditation, Mindfulness and Inspired Living. She specializes in sharing empowering messages and practices that support the process of illumination, transformation and celebration. Known for her intuitive, poetic and loving style, Chara's intention is to inspire people all over the world to live their own kind of magic.
She has just released a brand new book of Sacred Poems and Self Images entitled BREATHE which is now available on Amazon.
It explores awakening to your creative power, seeing yourself as sacred, and reflecting on life, love, and the Divine.
To complement her new book, Chara created an amazing guided meditation called Breathe…and let the magic begin! this will change your life! It's available for free on the home page of her website at www.Chara.tv.
–
On this episode:
When that first conscious breath that I invited into my body and my heart came in, it was like a ray of light came into my being.
 I thought wow, now I have permission to do a photo shoot the way I want to do a photo shoot, I have permission!
 Breathe is the most vulnerable thing I have ever done, which is very exciting but a bit frightening.
 Even in the darkest times, there is a possibility of transforming that darkness into something of value.
–
Website:
Facebook:
https://www.facebook.com/chara.tv/
Twitter:
https://twitter.com/chara_inspire?lang=sr
YouTube:
https://www.youtube.com/channel/UC9b5uvbYoLsH4T0a4xoP4XA
–
Don't forget!
Subscribe to dHarmic Evolution on iTunes
Please sign up on http://www.dharmicevolution.com/guest-invite/ for artist opportunities
Follow dHarmic Evolution on social media,
Also check out www.thejamesoconnoragency.com and find out how we can broadcast your global career!
Listen to the interview here!