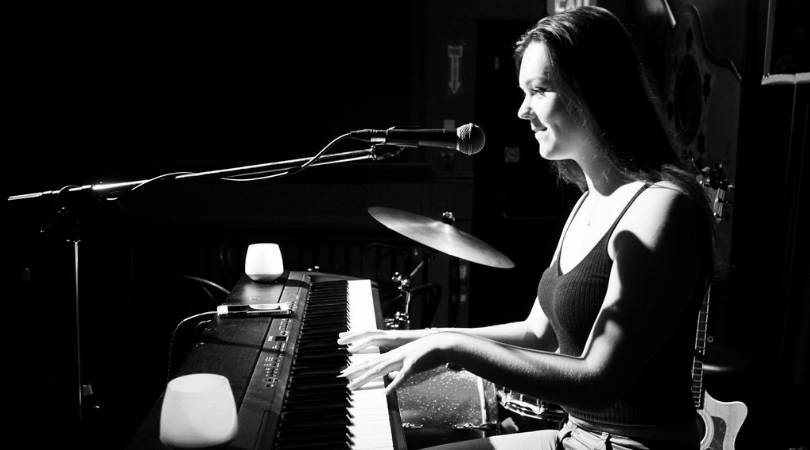 [audioalbum title=""][audiotrack title="Prove It" songwriter="Mikalyn Hay" mp3="https://dharmicevolution.com/wp-content/uploads/2019/06/Prove-It-Radio-Edit-online-audio-converter.com_.mp3" width="300" height="500"] [audiotrack title="One Day" songwriter="Mikalyn Hay" mp3="https://dharmicevolution.com/wp-content/uploads/2019/06/One-Day-FT-Mikalyn-online-audio-converter.com_.mp3" width="300" height="500"] [audiotrack title="Deep End" songwriter="Mikalyn Hay" mp3="https://dharmicevolution.com/wp-content/uploads/2019/06/DEEP-END-MIKALYN-WAV-online-audio-converter.com_.mp3" width="300" height="500"]
Mikalyn's Producers:
Ian Smith, Chris Grey, and Reven Beats from Brazil
Featured Video from Mikalyn:
"Gone" with Producers Curt Jefkey, and Chancellor Warhol
Cool Mikalyn Projects:
"The Brazil EDM Project"
The new EP "Sleepless Nights"
Cool places mentioned in Mikalyn's world:
"Red Brick Cafe"
"B Side Lounge"
"Kate's Cafe" (for the best BLT sandwich on the planet!)
Mikalyn's Producers:
Ian Smith, Chris Graham,
Special thank you to Jim Catalano, and Don Grierson.
A few of Mikalyn's recent accomplishments:

Mikalyn brings a powerful mix of youthful energy and optimism to her alternative-pop sound, grounded by lyrical flourishes that often by a depth and maturity rarely found in someone so young. An artist in the truest sense of the word, Mikalyn's creativity is a form of self-expression pouring over every note and word with the finesse and attention to detail of a painter. Since she can remember she has desired nothing more than to make music that is truly memorable and means something to the listener.
– A Few Recent Accomplishments Nominated for 2019 International – Singer-Songwriters Association Awards categories:
– Female Vocalist Of The Year, Female Rising Star,
– Album Of The Year Love Again
– Female Single Of The Year & Music Video Of The Year for 7 Billion,
– Female Songwriter Of The Year
– Nominated for 2018 ISC Teen Category Finals – Go Away
– Nominated for Social Stars 3rd Annual Best of 2018 Awards categories: 18 and Under Artist of the Year, Best Collaboration of the Year, Performer of the Year
– (Pop/Rock) and Rising Star of the Year
– Nominated for Florida Country Radio 2018 Female Rising Star Award
– Selected to YOUNK's Hit Funding Level and recorded a pro video for GONE (released Dec 1st) in Los Angeles https://www.youtube.com/watch?v=6_LWfeKQz7I
– Nominated for 2018 Music Mafia Radio Female Artist of the Year Award
– Nominated for 2018 The Josie Music Awards for Young Adult Artist of the Year (Female) and Young Adult Vocalist of the Year
– Finals Pop Category for "Save Yourself" (2017 Canadian Songwriting Competition) and Honorable Mention in 2018 for Home, and Fall in Love Again in the ISC and the Unsigned Only Songwriting Contest
– Released 6 song EP "Love Again" that is doing well on Indie Charts Globally
– Finalist in ISC and Unsigned Only – Teen Category 2017 – Fall In Love Again
– Receiving airplay on CBC Radio
– Released 13 song CD on all major platforms in 2018
– Numerous features and interviews on Indie Internet Radio Stations worldwide
– Sang United Kingdom National Anthem and Canadian National Anthem on 9/16/17 for Toronto Wolfpack Rugby match
– Finalist in Your Music Out Loud Contest – Gone – Nashville 2017
– Finalist in 3 categories in the UK Songwriting Contest 2017
Performed live over 40 times in 2017 so far and opened for June winner Steve Strongman Band
– Ranked 6th in World and 1 st in Canada on ReverbNation Indie Charts
– Alice Sloan Scholarship – Songwriting – With You – Guelph Kiwanis Festival and featured artists in the 2018 Gala
– Winner of TalentWatch Songwriting and Label Contest ($500)
– Finalist in CBC Searchlight in 2016,17
– 2nd Place in the (3 songs) UK Songwriting Contest 2016, 2017.
– 5 Featured Songs on ReverbNation Homepage – #1 on National Indie Charts
– 1st, 2nd,3rd in the Indie International Songwriting Contest (15.16,17) Carnival, Free As A Bird, Anyway
– Scholarship to attend the 2016 Song Studio Songwriting Camp (Toronto in July)
– Played songs for publisher Chris Oglesby from BMG Nashville on two occasions 2 Factor Demo and ADP Grants to record original songs in 2016 and 2017
– My Cover of Melanie Martinez's Dollhouse is at 146,000 plays on SoundCloud
– and counting 2200 subscribers on YouTube and counting, and posting regularly
– Selected to open for Tyler Shaw at the Liv, Love & Lyrics Event, Nov 2015, and 2016
– Guelph Mercury 40 under 40
You can follow Mikalyn here:
Facebook
@MikalynMusic
Instagram
@mikalynmusic
Youtube
Mikalyn Music
Soundcloud
Mikalyn Music

Twitter
@MikalynMusic
ReverbNation
Mikalyn Music
Patreon
Mikalyn Hay
Younk
Mikalyn Hay
Thanks for joining us, and be sure to connect with us on social media!
You can now listen to us on Pandora, Spotify, Stitcher Radio, and iTunes.
You can download a free copy of "My 7 best strategies to fight depression" ebook here! 
Subscribe rate & review the dHarmic Evolution podcast!
Please sign up on http://www.dharmicevolution.com/guest-invite/ for artist opportunities. Join the dHarmic Evolution Community Facebook page! You can post your content on there for the whole world to see.