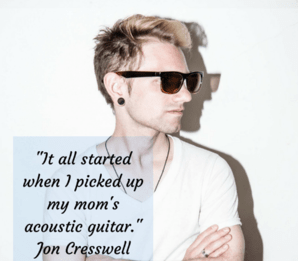 Stellar production, stellar musicmaking!
I got the musical marvel Jon Cresswell on the show today, and man, I just gotta say he is awesome! Growing up around music in his hometown of Manassas, Virginia, Jon learned how to play the guitar by picking up his mom's acoustic guitar.
We talk a lot about his production and the guitars he uses for his songs, as well as the gigs he does. You really gotta strap up your seatbelts for this guy because he will take you for a ride! Trust me on this.
On this episode:
Jon talks about moving to LA and the struggles of standing out in a very competitive music scene

We share our love for guitars – and he does know his tools, man!

What kind of gigs does Jon do and what does he prefer? Learn more on this episode!

He's quite fortunate to have really talented friends around him, and that's what he's thankful for! Learn more about that on this episode!

"You stole a part of my heart, and I don't want it back from you." Wow! Powerful lyrics from this guy! Listen in!
Jon Cresswell songs featured:
Standing to Fall

Gift Wrapped

Miss You
Reach out to Jon Cresswell
Twitter: @thejoncresswell
Instagram: @joncresswellmusic
Visit his website today and get your free single!
Don't forget!
Subscribe to dHarmic Evolution on iTunes
Please sign up on dharmicevolution.com for free bonus content!
Follow dHarmic Evolution on social media
Listen to the interview here: