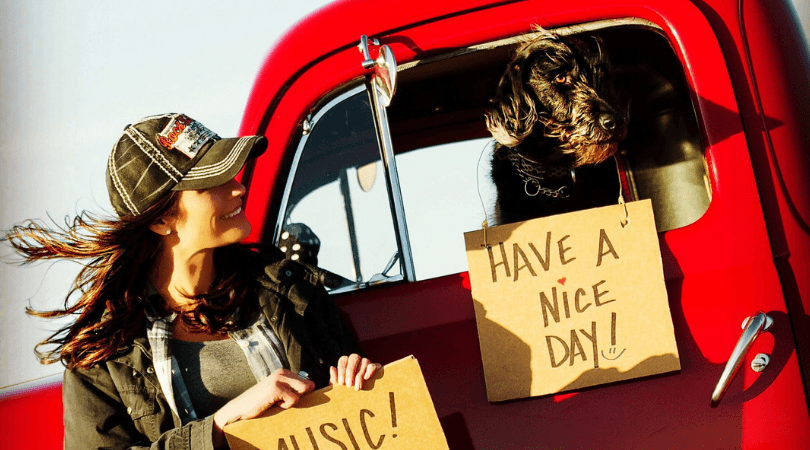 Jenny Vinatieri is an emerging talent in the world of music. Her abilities as a singer-songwriter currently impress hundreds and thousands of people worldwide, gaining her more and more popularity every day. She has presently styled many of her songs after influences like Taylor Swift, Katy Perry, Chainsmokers, and SIA. Several of her songs now endlessly circulate on SoundCloud as well. But that's not all! The rising music artist from Colorado Springs is also a fashionista. Millennials worldwide take inspiration from her style, and we want to know where this style-sense comes from!
When dHarmic Evolution got in touch with Jenny, we asked her everything her audience wanted to know. We talked about blending music genres, music universality, and how she became the complete artist! To find out more about her music, what she thinks about music as a language, her thought-process when writing songs, and other exciting facts about Jenny Vinatieri that we uncovered in our interview, stick around till the end!
Language Barriers Growing Up
Jenny Vinatieri is from Colorado Springs, Colorado. Both of her parents came from different countries, and neither spoke each other's language! Naturally, Jenny Vinatieri grew up in a unique environment with a highly diverse communication setup. When asked, she revealed that she had to learn three different languages simultaneously. She was born in Italy, her family is a part of the Italian descendants, and her father's family is from South Dakota. She said that since her mum didn't know English and her dad didn't know Spanish, they both used bits of each other's language to communicate.
Being surrounded by diverse languages and witnessing the art of communication firsthand deeply impressed upon young Jenny's mind and most likely had a role to play in terms of her development as a song-writer. As she went to school, the artist had to attend special education to learn how to communicate in English, speak, read, and understand the language. Music was, perhaps, the only language that came most naturally to the passionate singer who now uses it to share her feelings and express herself in diverse ways.
Overcoming The Language Barrier
When you get put into a special ed class, says the singer, you immediately assume that there is something wrong with you. Jenny Vinatieri tells dHarmic Evolution that her teacher was, in fact, blind. And to see someone with a disability do so many fascinating things was an experience in itself. And probably somewhat of an inspiration that ultimately encouraged the singer to overcome her own language barriers growing up. The singer recounted her school days and told us how she couldn't solve Rubik's cube "even to save her life." She says that she would be amazed when her teacher could do it in two clicks despite her disability. "I thought this woman had superpowers".
Jenny Vinatieri Moved To America At 16
Jenny Vinatieri moved from Spain to Colorado Springs when she was 16. Despite her father's jokes about the presence of cowboys in their new home, Jenny was amazed to experience the cultural difference first-hand. The artist had a hard time figuring out how to fit in. Jenny also says she was into fashion at that age. She says the styling differences between the two parts of the world were quite significant. She says that it was significantly harder to fit in because what she wore was supposedly "weird" to other people.
Once she started to feel more comfortable, the singer-songwriter says she made a group of friends. And the music was the one thing they all had in common. "I'd tell them an idea of a song, and they'd sing melodies.." says the singer. This particular friend group helped Jenny Vinatieri get out of her shell. It also helped her identify her musical talents since she was a massive introvert and a little shy.
Even so, Jenny says she missed out on a lot of things about Spain because she moved to America. According to the multilingual singer, she didn't get to experience the Spanish culture fully. She also talked about how different Spanish and American culture are from each other. She says people in Spain prioritize family time more than work as compared to America. "They're more about community, more about family…"
Jenny Vinatieri: Influences And Inspirations
Jenny Vinatieri says her first inspiration for creating music and writing lyrics was Madonna. In fact, her first record was Like A Virgin by Madonna. Although the artist didn't know much about the song's content since she was young, it is still one of her earliest inspirations. The talented music enthusiast and singer-songwriter and artist says Madonna, Janet Jackson, Michael Jackson, and other singers of that age sparked her interest in music. She wrote parodies for these songs and slowly became more indulged in the world of melody.
In the interview, Jenny Vinatieri also revealed that her school had a newspaper. As she became more and more interested in writing songs and lyrics, the newspaper owners would have her write parodies for them. Her writings helped kids sing along with popular songs of that time. And that's what introduced Jenny to the music industry. She also recalled how being in a foreign country, she didn't have access to a lot of American Music. Therefore, even though the songs she found were inappropriate or out of her league, the beats and melody of these songs were still entertaining.
Friends & Associations
Since they were on a military base, Jenny Vinatieri says most of the music they listened to was American. Naturally, that's all they had to relate to. Her family is Spanish (half of her family is in Spain), so there was a lot of other Spanish musical stuff she got exposed to. Even today, she says she'd love to incorporate more Spanish culture into her music. She even plans to visit Spain soon. However, American Music was what they primarily grew up listening to on the radio on the military bases so that definitely did inspire her.
The multi-talented fashionista and artist had quite a lot of trouble fitting in high school and had a hard time making friends and allies. However, soon, Jenny ended up with a large group of friends. But her hard times taught her to be the person who approached the terrified new kid and accepted them with open arms. We love that about her!
Jenny Vinatieri's Thought Processes When Writing A Song
Jenny Vinatieri says that when she writes, she first listens to a tune or melody. If it resonates with her, she lets it set the mood and visualizes the environment it creates. Then, she starts writing a song accordingly around that situation. While referring to her song Any Less as an example, she said she wanted people to relate to it. The song, says the singer, targets people who are looking for closure in their relationships. Jenny says the song talks about how you should move on and let it go, stop waiting for answers, and make a decision for yourself. So, Jenny Vinatieri says that her songs are not meant for the clubs and party environments in general. She writes them for the audience – so that they can relate to it and have something that they can connect with, regardless of where it's playing.
Insights Into The Music Processes
In the interview, Jenny Vinatieri suggested that she'd been writing for many different musical groups, and everyone in the group was responsible for a particular task in the project. Overall, it was a group project, and while everyone had credit in it, no one in specific owned it. She told dHarmic Evolution that even though the songs and projects got their market recognition, it wasn't going anywhere after that.
When she started planning her first project, the musician says that she wanted it to be all hers! The singer said, "I really wanted to create something for myself that when older, I can look back and say, "Hey, I did that!" She says that she didn't expect the first project to do as well as it did. Even so, when it was time to plan out the second project, she adopted different strategies. She went online and did her research. She found some beats she liked and got exclusive access to them by purchasing them. Then, she went into a studio to get help from an engineer to create the sounds she was looking for. Jenny Vinatieri said she'd been working with her new engineer to develop innovative projects, and she's now working in collaboration with KMG.
Social Media Thoughts & Experiences
Even though Jenny Vinatieri has a social media presence on almost every platform, her Instagram content has gained the most popularity. She says her followers adore her positive posts. Sometimes it's hard for her to tell them she's a professional music artist and not a lifestyle blogger or speaker. The singer-songwriter says spreading positivity through her social media platforms is her primary goal. And that is also how she likes to live life in general. An increasing following has genuinely made her happy, but what she appreciates the most is the feedback!
Wrapping Up
Near the end of our interview at dharmic Evolution, Jenny Vinatieri said she's excited about the future and what it's going to bring. While the artist sits at a high ranking everywhere, her presence on Instagram and SoundCloud is phenomenal. She plans to work with well-known celebrities like SIA, Chainsmokers, Taylor Swift, and Katy Perry, and other artists shortly. She says it's going to be nothing like she's done before! Naturally, fans worldwide are eager to hear more from this talented music celebrity, and so are we! Let's hope her creativity, positive vibes, and hardworking attitude only see the brightest of lights. And never come to a fade!
Get In Touch
Jenny Vinatieri's story is moving and inspiring for young musicians. At dHarmic Evolution, we interview creators of all kinds, from filmmakers and songwriters to social media experts and life coaches, and unpack valuable insights and actionable advice that could help you on your creative journey. To check out more inspiring interviews, head on over to our website and subscribe to our podcast. If you'd like to share your thoughts or simply give us feedback, scroll down to the comment section and let us know what you think!
FAQ's
1. Who is Jenny Vinatieri?
Jenny Vinatieri is a talented singer-songwriter based in Colorado Springs, Colorado and a ReverbNation Featured Artist. Jenny was born in Italy and raised in Spain and is multilingual.
2. What kind of music does Jenny Vinatieri create?
The artist is gaining a lot of well-deserved attention for being able to write songs across various genres. From pop to the more experimental, Jenny Vinatieri is always exploring new avenues.
3. Where to listen to Jenny Vinatieri's music?
Listen to Jenny Vinatieri's amazing soundtracks on SoundCloud and YouTube.
4. Where to listen to a podcast with Jenny Vinatieri's?
dHarmic Evolution did an interview with the talented Jenny Vinatieri to learn more about the artist. Listen to the full podcast here.